When the tiniest defects can damage a manufacturer's productivity and profitability, everything matters. Shanghai DeepSight and Intel increased defect detection accuracy to more than 99.9 percent and helped cut labor costs by approximately USD 42,000 per production line.
The Huge Opportunity in Small Defects
Today, the People's Republic of China boasts some 600 tire manufacturers that together generate approximately 800 million units annually or fully one-third of the total tire output globally.
Ensuring consistent product quality at this scale is a challenge. Most companies rely on manual inspection, a time-consuming, and unreliable strategy. It takes around three months to train inspectors, with inspections occupying up to 80 percent of their time. Even fully trained, humans make subjective judgments and are typically only able to maintain a 90 to 95 percent accuracy rate.
One major tire manufacturer decided to pursue a different path, turning to experienced technology partners for a better solution. The results have been dramatic.
DeepSight Focuses AI on Preventing Defects
Looking for an answer to tire defects, the manufacturer went to Shanghai DeepSight. DeepSight uses state-of-the-art technologies in deep learning, computer vision, and image processing to analyze video in real time and extract key information and insights that make the difference for businesses.
DeepSight brings highly accurate, highly stable testing products that effectively help customers solve problems. The company is also firmly rooted in the industrial sector, having undertaken many successful industry collaborations that focus on industrial defect detection.
Converting Small Defects into Big Benefits
Automating and accelerating early defect detection allowed the tire maker to maximize production while reducing waste and overall costs. The effort also managed to achieve high stability and a low environmental impact.
Now the problems that cause tire defects can be addressed earlier in the manufacturing process instead of after the tires roll off the production line. Today, thanks to the Intel®-based DeepSight solution, the manufacturer is able to inspect more than 20,000 tires per day in real time with an improved accuracy rate of more than 99.9 percent.1
Detection speed has also dramatically improved over traditional manual inspection, now averaging less than one second per inspection, a dramatic improvement in detection time over previous methods. Better speed and accuracy have benefited the bottom line as well, helping drive down labor costs by approximately USD 42,000 per production line.1
The solution runs fast, matching the speed of the original production line, an achievement much appreciated by the tire manufacturer. It also offers strong scalability and expedited learning in the case of new defects. Based on this early success, the DeepSight solution has since been deployed in additional production lines and is slated to be used for other related tire inspections as well.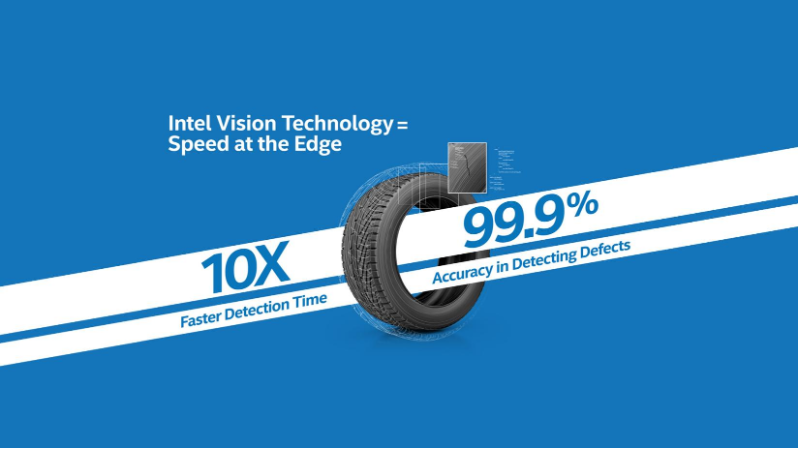 DeepSight and Intel Help Tire Maker Shift into High Gear
Working together, DeepSight technology, Intel® Core™ processors, and the Intel® Distribution of OpenVINO™ toolkit enabled DeepSight's manufacturing customer to quickly identify things its human inspectors had not been able to see before while also eliminating inspection tasks that can strain inspectors' eyesight. And because machine inspection is objective and free from fatigue, it can run continuously and with greater speed and efficiency.
By empowering the company to address the root cause of tire defects before they become bigger problems, DeepSight helped the tire maker achieve welcome improvements in production efficiency, deployment speed, worker productivity, waste reduction, and product quality.