Cooperate with Intel to accelerate the implementation of FPC intelligent detection
After joining the fourth phase of "Intel AI 100 Best Innovation Incentive Program", DeepVision and Intel jointly discussed how to improve the performance of FPC inspection equipment, so that it can better and faster defect detection. As FPC has many and complex defects, it requires a variety of imaging combinations to obtain all defects, resulting in a large amount of image data and a long CT time. Based on this premise, Deepvision, with the help of Intel, has carried out a comprehensive upgrade on the AI tool chain. In terms of detection software, OpenVINO can speed up the development of high-performance computer vision and deep learning visual applications, put ARTIFICIAL intelligence on the edge to do calculations, and combine artificial intelligence with heterogeneous edge computing. It includes a model optimizer and an inference engine, providing highly optimized neural network computing power to accelerate the reasoning process of deep learning models. In terms of hardware, the optimized processing of Intel I9 processor meets the computing power requirements of the platform in model reasoning. Meanwhile, the platform based on Intel architecture can support related edge devices, and its optimization is also conducive to improving the speed of image processing, analysis, display and storage. Through the dual optimization of OpenVINO and Intel I9 software and hardware, the speed of image data detection is increased to 2.46 times of the original, which can respond to the production line speed requirements in real time, greatly improving the performance of deep vision FPC detection equipment. After testing, deep vision FPC testing machine can improve UPH50%, FPY is more than 90%, leakage rate is less than 500PPM, the detection range covers all areas of the product, no special inspection is required. At the same time, it can provide accurate defect detection classification, which can detect more than 70 defect types, and can switch to a variety of models for detection Tray detection, shorter CT, higher efficiency, support continuous upgrade, bringing greater benefits to customers.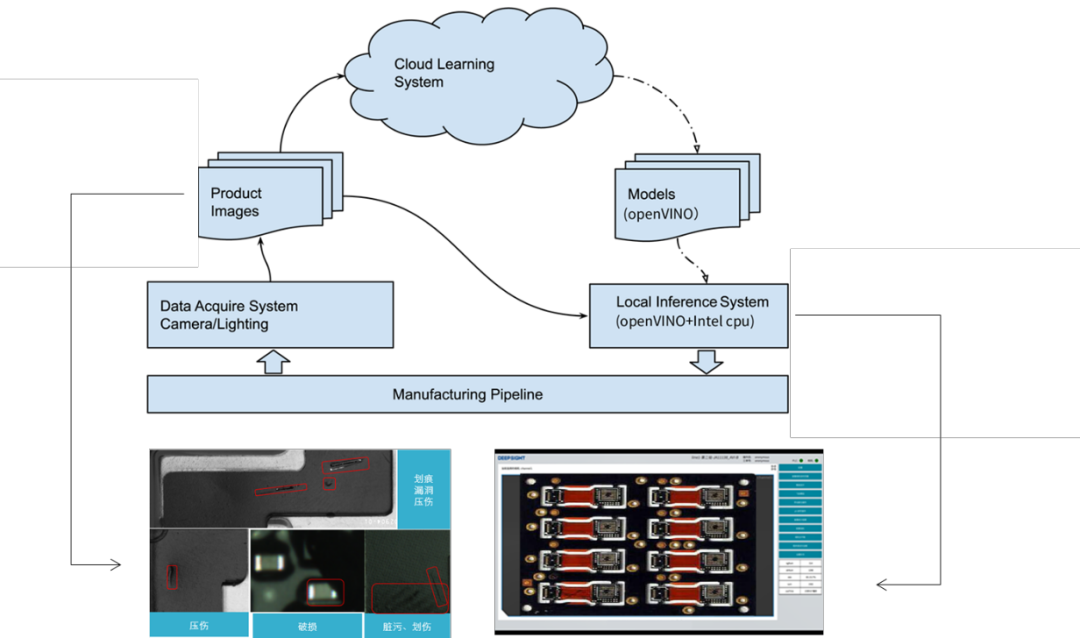 echnological innovation, bring greater value for customers
With the rapid development of artificial intelligence technology and the upgrade of related hardware, the domestic machine vision industry is developing rapidly and becoming one of the most active regions in the world. The huge market demand attracts many entrants, which also brings uneven solutions. Compared with winning more customers, Shenshi technology is more concerned about whether products and solutions can solve problems for customers and bring greater value to customers, so Shenshi pays more attention to technological precipitation and application innovation, which also happens to coincide with Intel.
As Deep Vision TECHNOLOGY CEO Li Yang said: Intel's technology innovation and customer supreme values affects us all the time, by AI top innovation incentive plan, we hope that in the software and hardware technology, resources docking, marketing and other aspects further in-depth cooperation, jointly create higher efficiency and better performance of products, make deep apparent industrial quality testing products and solutions in the field of AI has more advantages, To bring greater value to customers, to speed up the application of artificial intelligence technology, promote the development of industrial quality inspection, intelligent manufacturing.